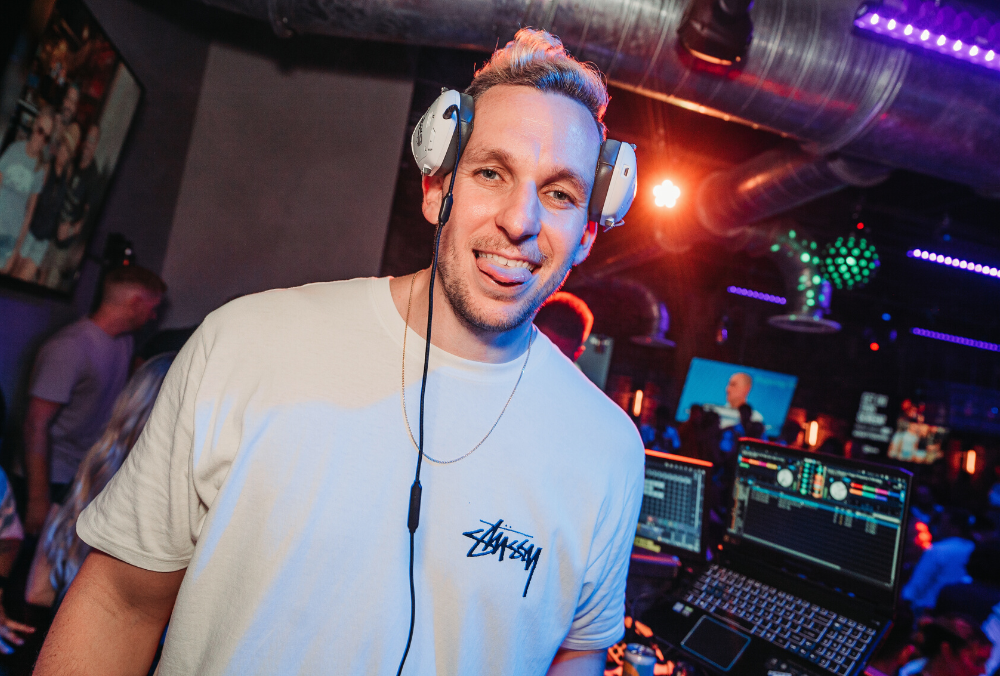 Exclusive Interview: DJ 5 Day Forecast Confirms "Elevate" Music Video
Following "Baby I'm Good" and "To The Edge," open-format DJ and producer 5 Day Forecast announces that a new music video will be coming out on Friday for his most recent single "Elevate."
During an in-depth interview with Funk N Play, 5 Day talks about his latest track and how he's taking in all this newly acquired recognition and success. He also expresses his thoughts on the emerging technology in music and reveals the name of his dream collaboration.
Check out the full conversation below.
Your third single "Elevate" just came out! What does the single mean to you? Will a music video come out soon? If yes, what should the public expect from the upcoming release?
This single is a special one for me. I wanted to drop my first dubstep song while also exploring a more darker/moody vibe and think I accomplished that with this song. Yes, the music video will drop this coming Friday and you can expect an awesome visual story that will represent the emotional struggle of coping with a breakup.
The story of the new track takes on the duality of emotions! How do you create your beats to complement and transmit that same level of depth?
That's exactly what I was going for here! I just play with a lot of different instruments/samples/sounds to create the emotion I'm hoping to convey in the song until it's perfect. There's a lot of internal dialogue I have with myself during the creative process to make sure I'm properly aligning my thoughts and emotions with my ideas.
You're an incredible producer and DJ! Do you plan ahead or improvise your sets? What does it feel like to be performing in front of a live audience? Do you feel comfortable or anxious?
Thank You! You always need to have some level of preparation for your gigs, but I also love being able to feel a crowd's energy and pivot. No crowd is ever the same and you need to be prepared for that as a DJ. There's no better feeling in the world than playing for a crowd that's engaged and loving your music, it's a high like nothing else. I feel very comfortable on stage but it's taken time to develop that comfort and even today I still get butterflies before sets.
What do you think about AI in music? Are you pro or against it? Do you feel that the process of creating music will get easier? How do you perceive the future of the music industry?
I love technology so I'll always be a proponent of technology in music. I think AI is going to shake things up a lot and I'm really curious to see how it will be applied in the production process. I can see the mastering process getting a lot more simplified with AI, but still unsure which areas developers will focus on. You need to always be evolving over time or you'll get left behind. I can't wait to see where AI takes us and hope it's complementary and not disruptive.
What is that one trait that helps a DJ stand out?
Charisma. There are a lot of DJs out there, but there aren't a ton that have personality, charisma, and the ability to converse and connect with people. I believe if you have that trait you can go far in this industry since relationships are everything.
How do you feel about collaborating with other DJs and producers? Name your dream collab!
I absolutely love collaborating with other artists and really hope to gain enough respect as a producer this year to have more opportunities to do that. My dream collab would be to work on a song with James Hype who I really respect a lot and share a similar path as an open format club DJ turned producer.
We Rave You named you "artist to watch in 2023." Do you remember the exact moment you received the news? What does it feel like to be acknowledged for your hard work and talent?
To be honest, I just saw it pop up on my feed one day and my jaw dropped. It feels amazing to be acknowledged by one of the industry heavy hitters, but I still have A LOT of work to do to continue building my brand and music identity and gaining respect from the EDM scene as a whole. I plan on 2023 being a huge year for me and a potential breakthrough year and hope it is!
Listen to "Elevate" here: