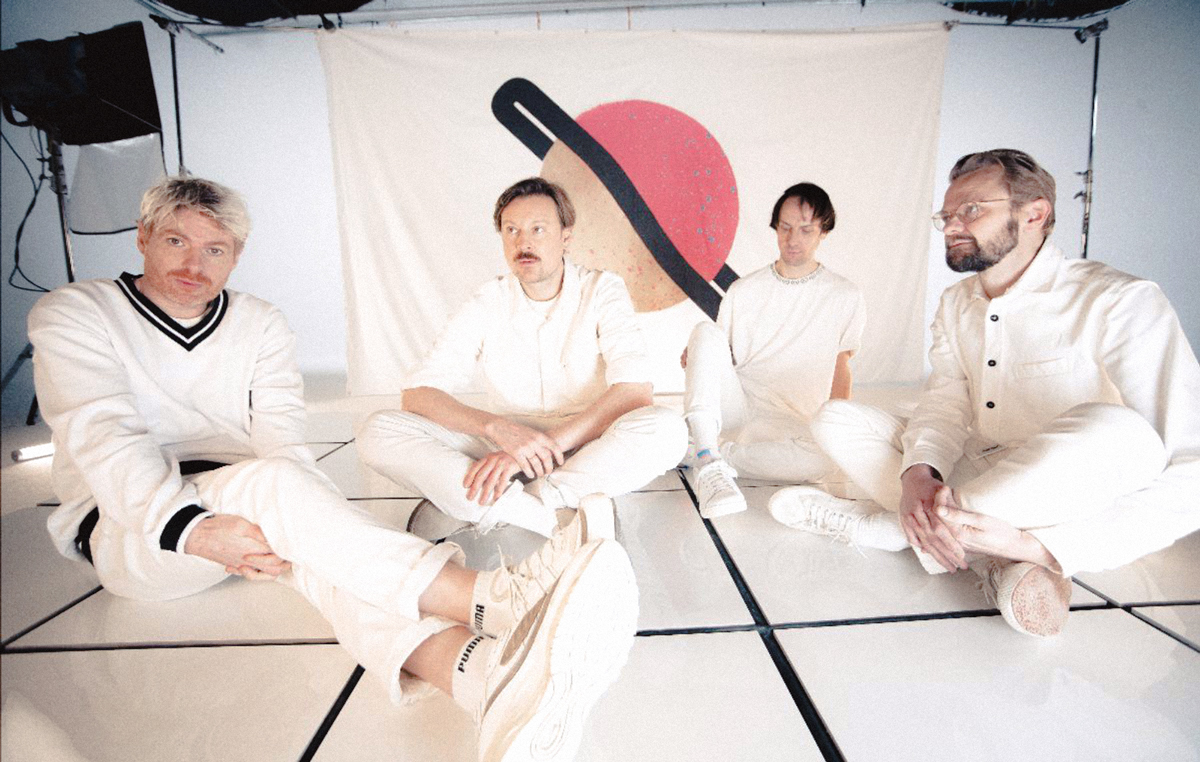 Django Django Drop First Five Songs Of Upcoming LP 'Off Planet'
London-based British Rock band, Django Django, share the first part of their anticipated album Off Planet that includes five songs: "Wishbone," "Complete Me" (feat. Self Esteem), "Osaka," "Hands High" (feat. Refound*), and "Lunar Vibrations" (feat. Isabelle Woodhouse). The full record, which is due June 16 via Because Music, will be released in four parts.
Off Planet features Jack Peñate, Stealing Sheep, and Toya Delazy, in addition to Self Esteem, aka Rebecca Taylor, who had previously worked with Django Django on "Surface to Air" from their 2018 album Marble Skies. The upcoming LP "deconstructs '90s dance pop" and follows 2021's Glowing in the Dark.
Dave Maclean, Django Django's drummer and producer said this about "Complete Me": "The instrumental for 'Complete Me' was made sometime in 2020 or 21 when the world was in lockdown and I was making music in my garden shed studio. It was a dance track that I didn't really know what to do with."
He explained: "I sent it to Rebecca and she loved the vibe of it and really quickly came up with some vocal ideas that kind of stuck straight away and locked well with the track. The production was inspired by a lot of '90s breakbeat house and hip-house records that I've always been really into and loved DJ-ing with over the years."
Django Django had last released a reissue of their self-titled debut album, marking its 10th anniversary. The band members collaborated with Mad Professor for the rework. 
See the full tracklist of Off Planet below:
1. Wishbone
2. Complete Me ft. Self Esteem
3. Osaka
4. Hands High ft Refound*
5. Lunar Vibrations ft Isabelle Woodhouse
6. Don't Touch That Dial ft. Yuuko
7. Back to Back ft. Patience
8. Squid Inc
9. Come Down
10. Golden Cross
11. No Time ft. Jack Penate
12. A New Way Through
13. Galaxy Mood ft. Toya Delazy
14. The Oh Zone
15. Dead Machine ft. Stealing Sheep
16. Dumb Drum
17. Fluxus
18. Slipstream
19. Who You Know ft. Bernardo
20. Black Cadillac
21. Gazelle
Listen to Off Planet Part 1 here: