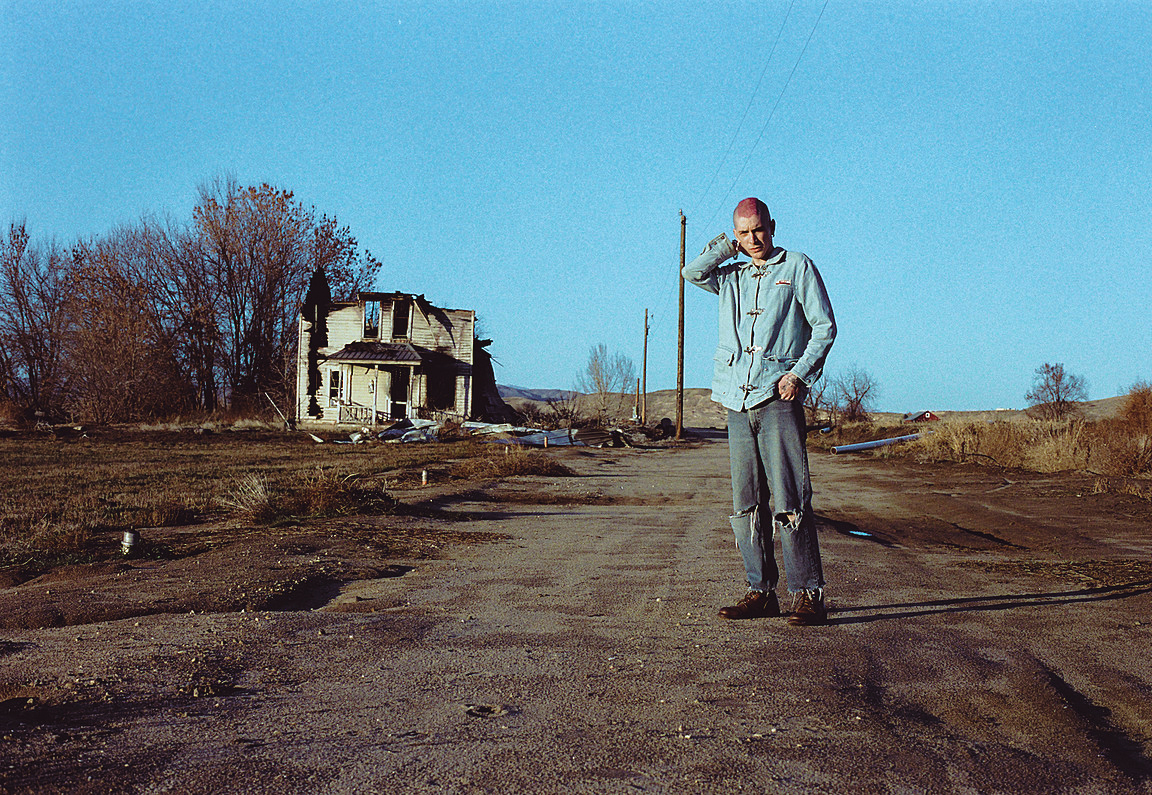 Youth Lagoon Previews Next Album With "Idaho Alien" & Shares New Music Video
Trevor Powers returns with exciting news. The 33-year-old musician has announced a new album under his moniker Youth Lagoon, titled Heaven Is a Junkyard. He just dropped the first single "Idaho Alien," which comes with an accompanying music video shot, directed, and edited by Tyler T. Williams.
The 10-track record is set to be released on June 9 via Fat Possum, following 2011's The Year of Hibernation, 2013's Wondrous Bughouse, and 2015's Savage Hills Ballroom. Powers has also shared albums under his given name Mulberry Violence (2018) and Capricorn (2020).
Explaining his constant name change, Powers says: "I felt like I was in a chokehold. Even though it was my music, I lost my way. In a lot of ways, I lost myself. My mind has always been a devil. It tells me terrible things—like I'm worthless, ugly, or broken. It's like a motel TV stuck on a channel that won't shut off, with static and endless late-night ads and preachers screaming about the end of the world."
As for "Idaho Alien," he reveals: "I've always loved old hardboiled crime novels. They're twisted but pure. 'Idaho Alien' comes from that space. Home often feels like a Jim Thompson book. One of my neighbors smokes meth all day and mows the lawn at 2:00 am. Her boyfriend lived in a tent in her backyard, and one day she locked him out of the house so he went as far as trying to stab her."
Trevor continues: "He got sent to prison for 10 years. She told me she still loves him, and I told her she deserves better. The last time I asked her not to mow the lawn at 2:00 am, we wound up talking about aliens and Subway sandwiches."
The music video for "Idaho Alien" was filmed in the farming town of Kuna, Idaho. "Ty and I found the right spot and parked our truck in the clearing. Fifteen minutes later, two black trucks pull up. Ten teens with shotguns and automatic rifles get out. This is normal in Idaho. They start shooting at the dirt by each other's feet and using liquor bottles as clay pigeons. Still pretty normal. Then they take a shot at a car driving past on the highway. This wouldn't be considered normal," explains the artist.
He adds: "We could tell they were shooting into the air now cuz we could hear the bullets coming down in the wind," Powers continues. "Right before magic hour, wartime finally ended, and we heard their trucks peel out. We went back to the clearing and set up the camera. Their shotgun shells make an appearance in the video at the 10-second mark. The scenes with the dad and young drifter were filmed the following day in Nampa, Idaho by the train depot. That's their house… they're a real father and son. This story couldn't have been told without them."
Speaking of the new album Trevor Powers admits: "Heaven Is a Junkyard is about all of us. It's stories of brothers leaving for war, drunk fathers learning to hug, mothers falling in love, neighbors stealing mail, cowboys doing drugs, friends skipping school, me crying in the bathtub, dogs catching rabbits, and children playing in tall grass."
Trevor Powers has taken a more inward-looking and micro approach for his upcoming release. Instead of tackling universal issues, the talented singer-songwriter would rather focus on himself and his family.
Watch the official music video for "Idaho Alien" here:
See the full tracklist of Heaven Is a Junkyard:
1. Rabbit
2. Idaho Alien
3. Prizefighter
4. The Sling
5. Lux Radio Theatre
6. Deep Red Sea
7. Trapeze Artist
8. Mercury
9. Little Devil from the Country
10. Helicopter Toy