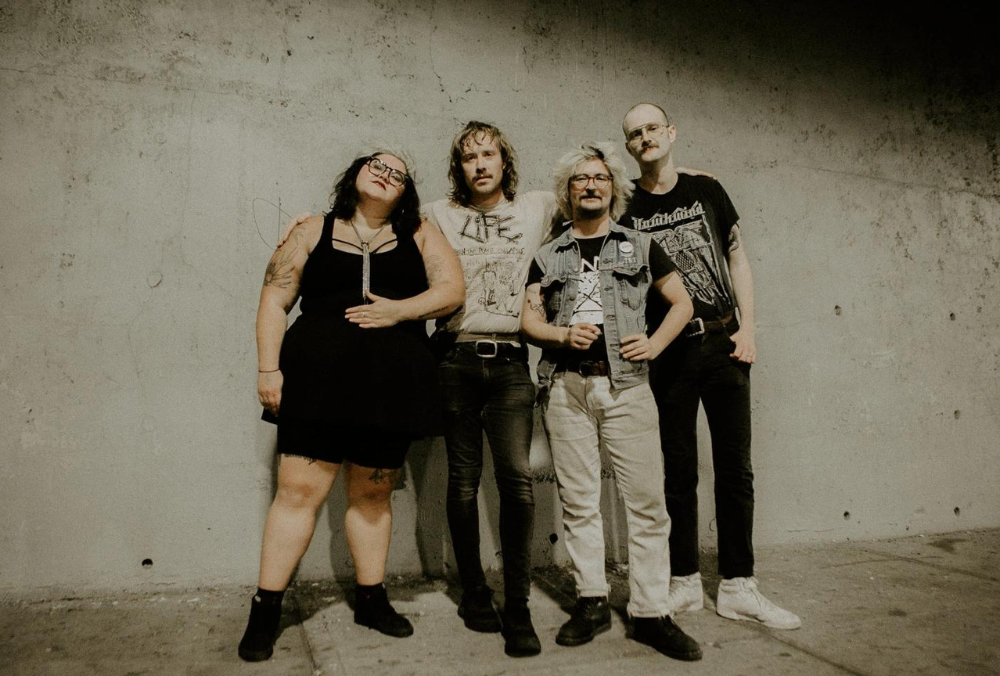 Sheer Mag Joins Third Man Records, Unveils New Song "All Lined Up" and Tour Dates
In an exciting development for Sheer Mag fans, the Philadelphia punk rockers have officially signed with Jack White's renowned Third Man Records. Celebrating their new partnership, the band has released a brand new track titled "All Lined Up" and has also revealed a set of upcoming tour dates.
Commencing on August 15th, Sheer Mag's eagerly awaited tour will kick off with performances in Montreal and Toronto before embarking on a journey down the East Coast. Afterward, they'll venture slightly west to grace cities such as St. Louis, Minneapolis, Milwaukee, Detroit, and Cleveland before concluding the tour in their hometown on December 1st. For most of the dates, Hotline TNT will provide support, while the final three shows in Boston, New York, and Philadelphia will see Sheer Mag opening for Baroness. Tickets for these events are available via Ticketmaster.
With "All Lined Up," Sheer Mag showcases their first release on a prominent independent label. The song exudes a retro vibe, both in its musical aesthetics and the accompanying music video, which portrays the band playing their raw, '70s-inspired guitar riffs in a gritty dive bar. In a statement about the track, Sheer Mag shared, "The genesis of 'All Lined Up' stems from late nights at the bar playing pool. Last call has long come and gone, the gate is down, the ashtrays are out, and your friend behind the bar is giving it all away. Despite the revelry, there's a looming sense of dread — a fear that no matter how far ahead you get, all it takes is one bad shot to lose the game."
In addition to this exciting new single, Third Man Records will also be re-releasing Sheer Mag's discography on black vinyl, as well as limited edition color wax versions. The EP collection "Compilation (I, II, & III)" will be available on metallic gold vinyl, while "Need to Feel Your Love" will be presented on coke clear vinyl and "A Distant Call" on clear red vinyl. These reissues are slated to be released on October 27th, and pre-orders are currently open.
Prior to this announcement, Sheer Mag's most recent release was the 2021 single "Crushed Velvet." With their newfound collaboration with Third Man Records and the highly anticipated tour on the horizon, the band is undoubtedly set to leave a resounding impact on the music scene.
Sheer Mag 2023 Tour Dates:
08/15 — Winooski, VT @ The Monkey House
08/16 — Montreal, QC @ La Sotterenea
08/17 — Toronto, ON @ Nineteen Seventy Eight
08/19 — Pittsburgh, PA @ Skullfest
08/20 — Richmond, VA @ Cobra Cabana
08/21 — Durham, NC @ The Pinhook
08/22 — Washington, DC @ Comet Ping Pong
08/23 — Baltimore, MD @ Holy Frijoles
10/03 — Portsmouth, NH @ The Press Room !
10/04 — Hamden, CT @ Space Ballroom !
10/05 — Garwood, NJ @ Crossroads !
10/06 — Norfolk, VA @ Chicho's !
10/08 — Atlanta, GA @ The Earl !
10/10 — Memphis, TN @ Growlers !
10/11 — St. Louis, MO @ Blueberry Hill Duck Room !
10/13 — Lawrence, KS @ Bottleneck !
10/14 — Minneapolis, MN @ Snow & Flurry Fest !
10/15 — Milwaukee, WI @ X-Ray Arcade !
10/16 — Detroit, MI @ Third Man Records !
10/17 — Cleveland, OH @ No Class !
11/28 — Boston, MA @ Royale ~
11/29 — New York, NY @ Webster Hall ~
12/01 — Philadelphia, PA @ Union Transfer ~
! = w/ Hotline TNT
~ = w/ Baroness