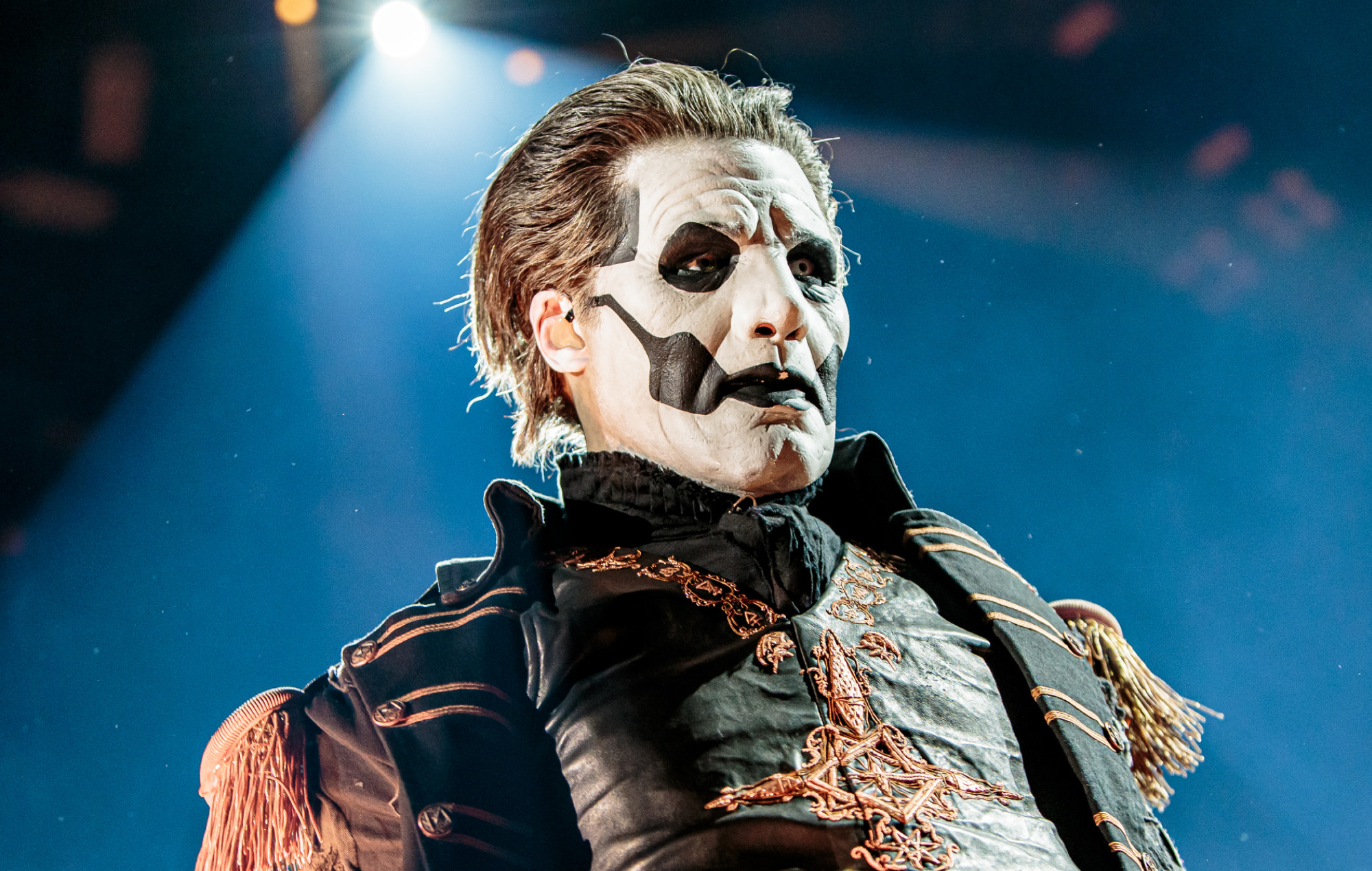 Ghost Reveals 'Phantomime' Covers EP & Genesis' 'Jesus He Knows Me' Rendition
Ghost has put an end to recent speculations about whether they will release new music before their 2023 tour. The band just announced their latest EP, Phantomime, and premiered a video for their new cover of Genesis' "Jesus He Knows Me," originally from the 1991 album We Can't Dance.
On April 7, Ghost released a short video, "Chapter 17," featuring bandleader Tobias Forge as Papa Emeritus IV, struggling to use a juice box and invoking the threat of Papa Nihil. Papa Nihil receives a Ghost gold record, and the video's caption teases, "Don't sleep on this; it will be a Good Friday."
On April 9, Ghost premiered a 30-minute video called "Jesus Talk with Father Jim DeFroque." After a brief introduction, DeFroque humorously discusses gothic music and analyses the "blasphemous" lyrics of a few songs, including "Jesus Built My Hotrod" by Ministry and "Personal Jesus" by Depeche Mode. He concludes with a positive evaluation of the Genesis track.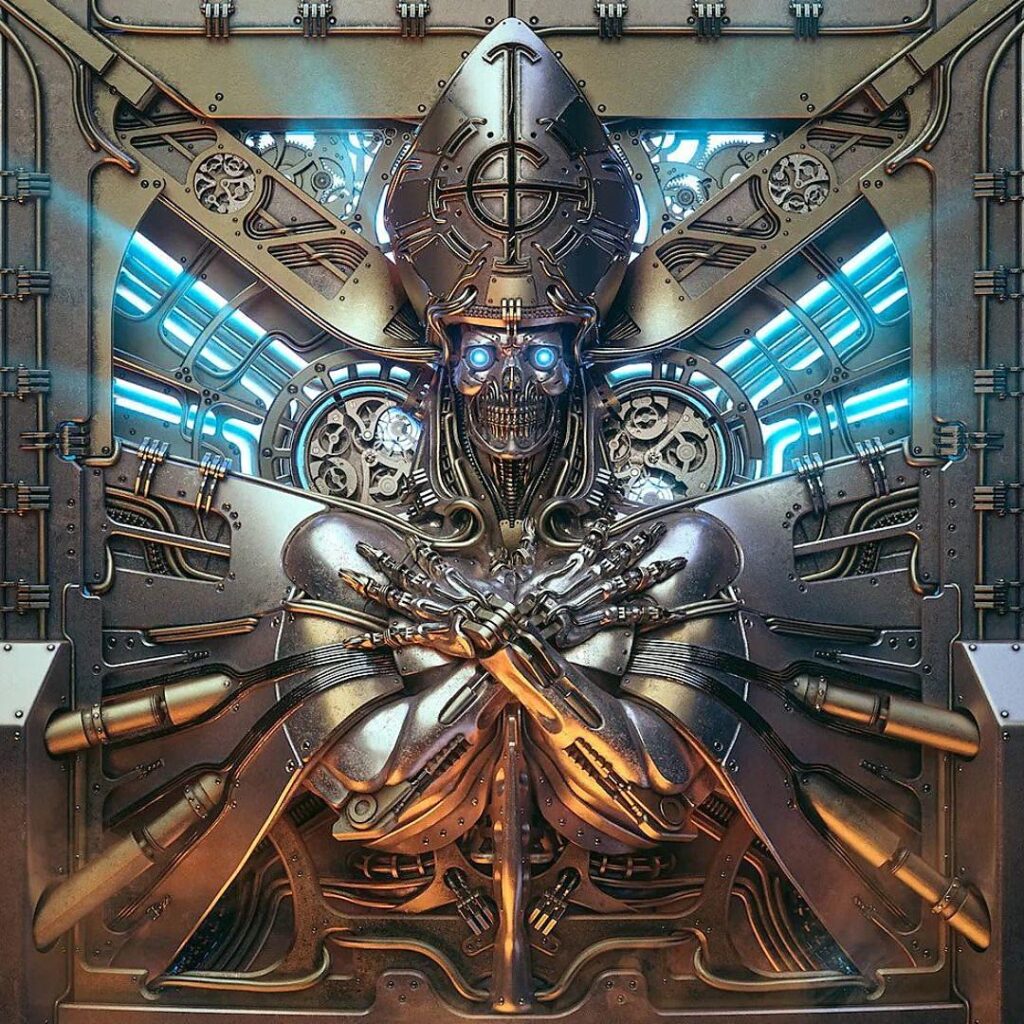 Following the episode, Ghost launched a countdown for the video premiere. The clip features DeFroque addressing churchgoers and collecting donations before driving down the road listening to the "Holy Hits" tape. He rocks out to Ghost's unique take on "Jesus He Knows Me" while committing various transgressions.
Take a look at the album art and full tracklist for Phantomime, along with the lyrics and video for Ghost's cover of Genesis' "Jesus He Knows Me," below!
Phantomime is now available for preorder and is set to release on May 18 via Loma Vista Recordings. Fans can expect the EP in a variety of formats.
"See No Evil" (Television)
"Jesus He Knows Me" (Genesis)
"Hanging Around" (The Stranglers)
"Phantom of the Opera" (Iron Maiden)
"We Don't Need Another Hero (Thunderdome)" (Tina Turner)
Ghost 2023 Tour Dates
May 21 – Rouen, France @ Zenith
May 22 – Lyon, France @ Halle Tony Garnier
May 23 – Toulouse, France @ Zénith de Toulouse
May 25 – Rennes, France @ Le LIberte
May 26 – Lille, France @ Zénith de Lille
May 28 – Strasbourg, France @ Zenith of Strasbourg
May 29 – Milano, Italy @ Ippodromo del Galoppo di San Siro
May 30 – Nice, France @ Palais Nikaïa
June 1 – Barcelona, Spain @ Primavera Sound 2023
June 3 – Saint-herblain, France @Zenith Nantes Metropole
June 4 – Amsterdam, Netherlands @ AFAS Live
June 6 – Berlin, Germany @ Velodrom
June 8 – Gdańsk, Poland @ Mystic Festival 2023
June 10 – Sölvesborg, Sweden @ Sweden Rock Festival 2023
June 11 – Derby, United Kingdom @ Download Festival 2023
June 12 – Esch-sur-alzette, Luxembourg @ Rockhal
June 13 – Bochum, Germany @ RuhrCongress Bochum
June 15 – Dessel, Belgium @ Graspop Metal Meeting 2023
June 17 – Copenhagen, Denmark @ Copenhell Festival 2023
June 19 – Hamburg, Germany @ Barclays Arena
June 20 – Neu-ulm, Germany @ ratiopharm arena
June 22 – 25 – Spálené Poříčí, Czechia @ Basinfire Festival 2023
June 23 – Osla, Norway @ Tons of Rock 2023
June 25 – Athina, Greece @ AthensRocks Fest 2023
June 28 – Viveiro, Spain @ Resurrection Fest 2023
July 1 – Seinäjoki, Finland @ Provinssi Festival 2023
July 2 – Helsinki, Finland @ Tuska Festival 2023
Aug. 2 – Concord, Calif. @ Concord Pavilion
Aug. 4 – Auburn, Wash. @ White River Amp.
Aug. 5 – Airway Heights, Wash. @ BECU Live
Aug. 7 – West Valley City, Utah @ USANA Amp.
Aug. 8 – Denver, Colo. @ Fiddler's Green Amp.
Aug. 11 – St. Louis, Mo. @ Hollywood Casino Amp.
Aug. 12 – Milwaukee, Wis. @ American Family Amp.
Aug. 14 – Clarkston, Mich. @ Pine Knob Theatre
Aug. 15 – Chicago, Ill. @ Huntington Pavilion
Aug. 16 – Cincinnati, Ohio @ PNC Pavilion
Aug. 18 – Syracuse, N.Y. @ St. Joseph's Amp.
Aug. 19 – Mansfield, Mass. @ Xfinity Ctr
Aug. 20 – Bridgeport, Conn. @ Hartford HC Amp.
Aug. 22 – Indianapolis, Ind. @ TCU Amp.
Aug. 23 – Burgettstown, Pa. @ The Pavilion
Aug. 24 – Bristow, Va. @ Jiffy Lube Live
Aug. 25 – Camden, N.J. @ Freedom Pavilion
Aug. 27 – Nashville, Tenn. @ Ascend Amp.
Aug. 29 – Simpsonville, S.C. @ CCNB Amp.
Aug. 30 – Jacksonville, Fla. @ Daily's Place
Aug. 31 – Tampa, Fla. @ MIDFLORIDA Amp.
Sept. 2 – Woodlands, Texas @ Mitchell Pavilion
Sept. 3 – Austin, Texas @ Germania Amp.
Sept. 5 – Irving, Texas @ The Pavilion
Sept. 7 – Albuquerque, N.M. @ Isleta Amp.
Sept. 8 – Phoenix, Ariz. @ Talking Stick
Sept. 11 – 12 – Los Angeles, Calif. @ The Forum