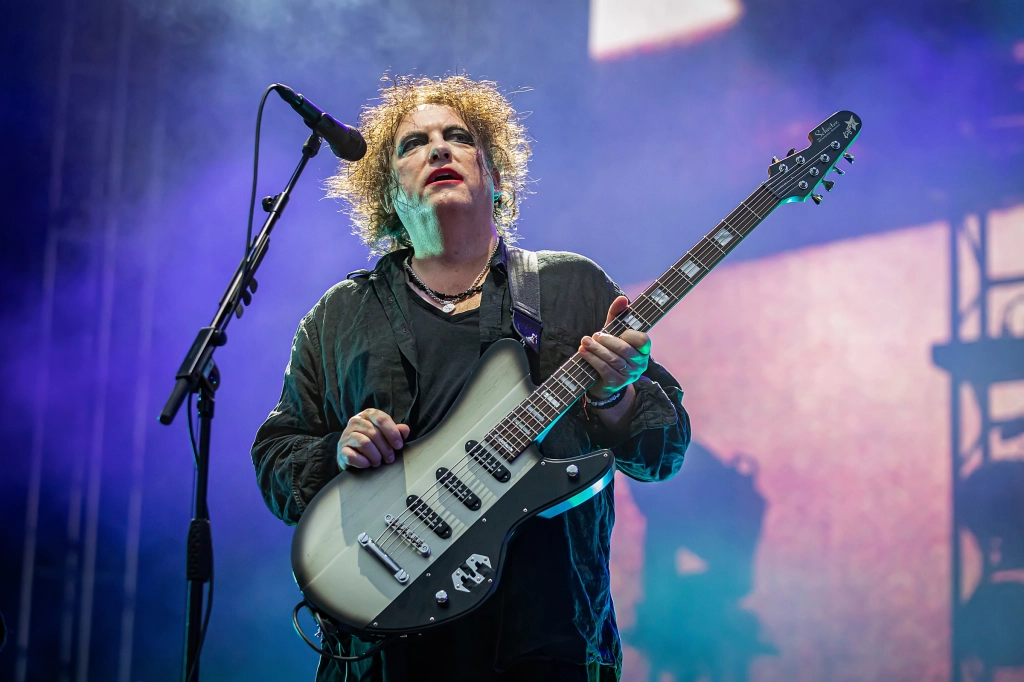 The Cure's Robert Smith Claims Responsibility for Cancelling 7,000 Secondary Market Tickets.
The Cure's Robert Smith continues to fight back against high concert ticket prices. After weeks of battling to knock out or knock down what he called Ticketmaster's exorbitant extra fees for the band's upcoming North American tour, Smith was at it again over the weekend. Smith revealed that "approx. 7K tickets across approx 2200 orders have been cancelled." The singer claimed those tickets were acquired with fake accounts and/or listed on secondary resale sites. "TM have identified specific locations from secondary postings," he said. He then asked fans who think their tickets may have been wrongly cancelled to reach out to TM fan support (@TMFanSupport). The Cure leader also had another notion about the ongoing imbroglio over ticket fees and the secondary market, writing, "A WEEKEND THOUGHT… THIS ONGOING TM 'CONVERSATION' IS NOT TAKING PLACE IN A VACUUM… THE SYSTEM THAT VALUES PROFIT OVER PEOPLE IS REALLY WHAT NEEDS TO BE CHANGED…"
To date, spokespeople for Ticketmaster have not returned Billboard's request for comment on Smith's ongoing battle against fees and the secondary market.
In the lead-up to the veteran group's upcoming The Lost World North American tour, The Cure had hoped to keep seat-buying fair and simple for their fans by opting out of dynamic pricing and shielding against scalpers with non-transferable tickets. But when the sale opened mid-March, customers were disappointed to find that the Ticketmaster had tacked on sky-high fees to tickets that totaled more than the price of the actual tickets themselves.
At the time, Smith went on a similarly all-caps Twitter rant, writing that he was "AS SICKENED AS YOU ALL ARE BY TODAY'S TICKETMASTER 'FEES' DEBACLE" before promising to investigate what went wrong. Soon after, he took to social media again to announce that Ticketmaster would be offering refunds and lower fees.
Last week Smith warned fans of a scam in which scalpers offered to sell account login details to get around TM transfer limitations. ANY/ALL TICKETS OBTAINED IN THIS WAY WILL BE CANCELED, AND ORIGINAL FEES PAID ON THOSE TICKETS WILL NOT BE REFUNDED," he wrote, adding that the fees from those tickets will be donated to human rights organization Amnesty International.
The Lost World tour is slated to kick off on May 10 at New Orleans' Smoothie King Center and run through a July 1 gig at Miami's Miami-Dade Arena.
'IHBT' #? "Approx 7k tickets across approx 2200 orders have been cancelled. These are tickets acquired with fake accounts / listed on secondary resale sites. TM have identified specific locations from secondary postings" #ShowsOfALostWorld2023

— ROBERT SMITH (@RobertSmith) March 31, 2023
IF YOU BELIEVE YOU HAVE BEEN WRONGLY CANCELLED CONTACT @TMFanSupport #ShowsOfALostWorld23

— ROBERT SMITH (@RobertSmith) March 31, 2023
A WEEKEND THOUGHT… THIS ONGOING TM 'CONVERSATION' IS NOT TAKING PLACE IN A VACUUM… THE SYSTEM THAT VALUES PROFIT OVER PEOPLE IS REALLY WHAT NEEDS TO BE CHANGED… X

— ROBERT SMITH (@RobertSmith) March 31, 2023