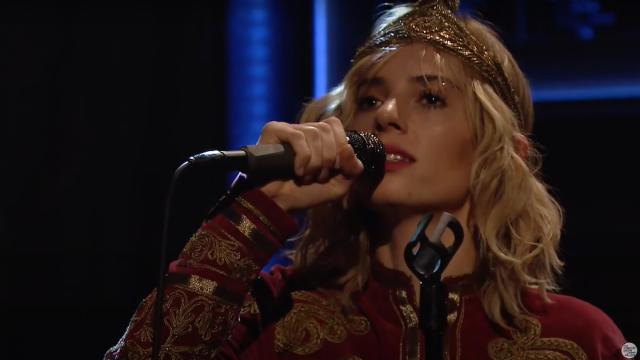 Watch Maya Hawke's Enchanting Performance of "Thérèse" on Fallon
Maya Hawke Performs "Thérèse" on The Tonight Show Starring Jimmy Fallon
Maya Hawke, known for her role as Robin Buckley in the popular Netflix series Stranger Things, recently graced the stage of The Tonight Show Starring Jimmy Fallon. The singer/songwriter performed "Thérèse," a single from her sophomore album Moss, which was released in November 2021.
Dressed in a stunning velvet dress and a golden crown, Hawke looked every bit a queen as she took the stage to deliver a spellbinding performance. What's more, she began the performance with the final moments of her track "South Elroy" before transitioning seamlessly into "Thérèse." The crowd was left mesmerized by her voice and presence on stage.
While Hawke has gained immense popularity for her acting skills, her appearance on The Tonight Show demonstrated that she is an equally talented musician. Her performance of "Thérèse" showcased her unique voice and musical style, with its haunting melody and introspective lyrics.
Maya Hawke's Fallon appearance is just one of the many instances that prove that she is a multi-talented artist with a promising career in both music and acting. Her enchanting performance of "Thérèse" has left fans eagerly anticipating her future projects.