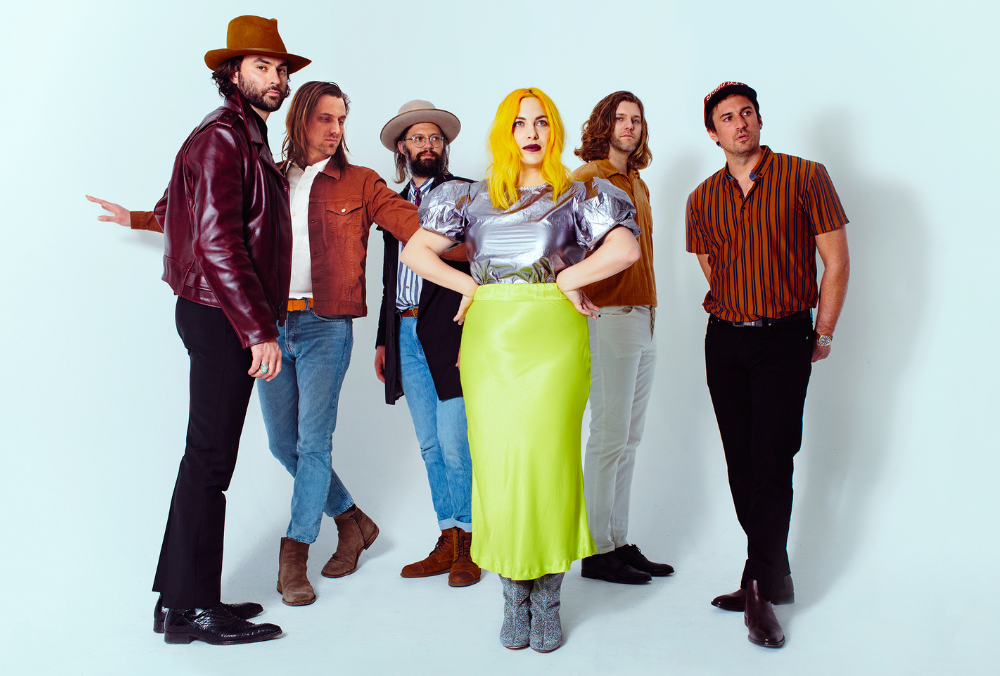 The Head and the Heart Announces Extensive US Tour Dates for 2023
The Head and the Heart, the beloved folk band, has an extensive lineup of US tour dates scheduled for the remainder of 2023. The first leg of the tour will kick off on August 4th in Salt Lake City and conclude on September 23rd in Franklin, Tennessee. Following that, they have announced a second leg, commencing on October 18th at the St. Augustine Amphitheatre in Florida. This leg will include stops in cities such as Miami Beach, Cincinnati, Louisville, Memphis, and more before wrapping up on November 18th at the Orpheum Theatre in New Orleans. Fans can check out the complete list of The Head and the Heart's 2023 tour dates below.
Some of the upcoming tour shows will be co-headlining gigs alongside Father John Misty. On their own headlining dates, they will be joined by Amanda Shires, Drew Holcomb and The Neighbors, and Yoke Lore as openers for selected dates.
Tickets for the newly added tour dates will go on sale starting Friday, July 28th via Ticketmaster, with pre-sales for various shows set to take place throughout the week. Tickets for all other upcoming shows of the band can be purchased here. Don't miss the opportunity to catch The Head and the Heart's captivating performances on their much-anticipated tour!
The Head and the Heart 2023 Tour Dates:
08/04 – Salt Lake City, UT @ Gallivan Center ^%
08/05 – Missoula, MT @ Big Sky Brewing Company Amphitheater ^%
08/06 – Spokane, WA @ Pavilion at Riverfront ^%
08/08 – Vancouver, BC @ PNE Amphitheater ^%
08/09 – Bend, OR @ Hayden Homes Amphitheater ^%
08/10 – Jacksonville, OR @ Britt Pavilion %
08/12 – Las Vegas, NV @ The Theater at Virgin Hotels Las Vegas %
08/13 – Santa Barbara, CA @ Santa Barbara Bowl ^%
08/15 – Vail, CO @ Gerald R. Ford Amphitheater ^%
08/16 – Vail, CO @ Gerald R. Ford Amphitheater ^%
08/18 – Lincoln, NE @ Pinewood Bowl Theater ^%
08/19 – Tulsa, OK @ Tulsa Theater ^%
08/20 – Columbia, MO @ 9th Street Summerfest ^%
08/21 – Madison, WI @ The Sylvee ^%
08/22 – Madison, WI @ The Sylvee ^%
08/24 – Brooklyn, NY @ BRIC Celebrate Brooklyn
08/25 – Vineyard Haven, MA @ Beach Road Weekend
08/26 – Harrisburg, PA @ Harrisburg University at Riverfront Park
08/31 – Los Angeles, CA @ The Bellwether
09/02 – Napa, CA @ Down in the Valley
09/03 – Napa, CA @ Down in the Valley
09/23 – Franklin, TN @ Pilgrimage
10/18 – St Augustine, FL @ St. Augustine Amphitheatre !
10/20 – Miami Beach, FL @ Miami Beach Bandshell !
10/21 – Tampa, FL @ Tampa Pig Jig
10/22 – Atlanta, GA @ Highball Festival
10/24 – Mobile, AL @ Saenger Theatre !
10/25 – Chattanooga, TN @ Soldiers & Sailors Memorial Auditorium !
10/27 – Savannah, GA @ Johnny Mercer Theater !
10/28 – Greenville, SC @ Peace Center !
10/29 – Norfolk, VA @ The NorVa !
10/31 – Providence, RI @ The Vets $
11/01 – Port Chester, NY @ The Capitol Theatre $
11/02 – Albany, NY @ The Hart Theatre at the Egg $
11/03 – Ithaca, NY @ State Theatre of Ithaca $
11/04 – New Brunswick, NJ @ State Theatre New Jersey $
11/06 – Ann Arbor, MI @ Michigan Theater $
11/07 – Grand Rapids, MI @ GLC Live at 20 Monroe $
11/09 – Cincinnati, OH @ The Andrew J Brady Music Center *
11/10 – Louisville, KY @ Old Forester's Paristown Hall
11/12 – Davenport, IA @ Capitol Theatre *
11/13 – Lawrence, KS @ Liberty Hall *
11/15 – Fort Worth, TX @ Tannahill's Tavern & Music Hall
11/16 – Fayetteville, AR @ JJ's Live *
11/17 – Memphis, TN @ Minglewood Hall *
11/18 – New Orleans, LA @ Orpheum Theatre *
^ = w/ Father John Misty
% = w/ Miya Folick
& = w/ Jamie Wyatt
! = w/ Amanda Shires
$ = w/ Drew Holcomb & The Neighbors
* = w/ Yoke Lore